About Us
Queens Tandoori is a Indian takeaway in Colchester. Why don't you try our Tikka Sylheti or Dupiaza?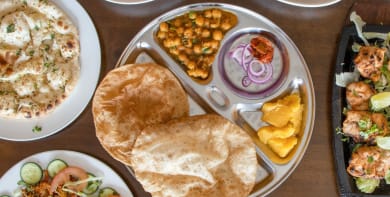 Reviews
17 reviews
ben
"Really liked the food."
17/05/2020
Hannah
"Was late by 5 minutes but it's not the end of the world! I really enjoyed my dinner and will 100% be going back!"
07/04/2020
Menu
Chicken & Chips
Boneless chicken
£6.95
Chicken Omelette with Chips
£5.95
Mushroom Omelette with Chips
£4.95
Tandoori Chicken Main (2)
Grilled in the clay oven
£6.95
Tikka Main Chicken
Lightly spiced cooked in the clay oven
£7.25
Tikka Main Lamb
Lightly spiced cooked in the clay oven
£7.95
Shashlik Main Chicken
Marinated with green peppers, tomato & onions
£8.65
Shashlik Main Lamb
Marinated with green peppers, tomato & onions
£8.65
Paneer Shashlik
Pieces of cheese barbecued with onions, capsicum & tomatoes
£8.95
Seekh Kebab Main
Minced lamb marinated in spices & herbs
£7.95
Tandoori King Prawn Main
Grilled in a clay oven
£11.50
Tandoori Mixed Grill
Chicken & lamb tikka, tandoori chicken & seekh kebab prepared with natural herbs & spices, served with naan bread
£9.95
Chana Paneer
Chickpeas & cheese, creamy
£3.95
Saag Paneer
Spinach with cheese
£3.95
Mattar Paneer
Peas with cheese
£3.95
Aloo Chilli
Potato cooked with green chilli
£3.65
Daal Masala
Lentil & spinach
£3.65
Special Biryani
Chicken, lamb & prawn
£9.35
Onion Bhaji
Lightly spiced onion balls fried in oil
£3.45
Seekh Kebab
Minced lamb marinated in spices & herbs
£4.45
Shami Kebab
Minced lamb marinated in spices & herbs, round
£3.95
Reshmi Kebab
Minced lamb marinated in spices & herbs, round with egg
£4.95
Tikka Starter Chicken
Lightly spiced, cooked in the clay oven
£3.85
Tikka Starter Lamb
Lightly spiced, cooked in the clay oven
£4.10
Tandoori Chicken Starter
Grilled in clay oven
£3.50
Prawn Puri
Spicy, medium & served with puri
£4.45
Prawn Cocktail
Prawns served with cocktail sauce
£4.45
King Prawn Puri
Spicy, medium & served with puri
£5.95
King Prawn Butterfly
Deep fried in oil with butter
£5.45
Tandoori Mixed Starter
Chicken tikka, lamb tikka & seekh kebab
£5.45
Chicken Pakora
Deep fried in butter
£3.95
Chicken Chaat
Chicken pieces cooked with tomatoes, cucumber, in a thick sour sauce
£4.25
Paneer Tikka
Pieces of cheese marinated in freshly aromatic herbs & spices cooked in the clay oven
£4.95
Bombay Roll
Seekh kebab wrapped with potato, deep fries
£4.25
Curry Chicken Tikka
Medium hot
£7.25
Madras Chicken
Fairly hot
£6.35
Madras Chicken Tikka
Fairly hot
£7.35
Vindaloo Chicken
Very hot with pieces of potato
Very hot
£6.45
Vindaloo Chicken Tikka
Very hot with pieces of potato
Very hot
£7.45
Bhuna Chicken
Dry but moist
Medium hot
£6.45
Bhuna Chicken Tikka
Dry but moist
Medium hot
£7.45
Dopiaza Chicken
Dry but moist, fried with onions
£6.45
Dopiaza Chicken Tikka
Dry but moist, fried with onions
£7.45
Rogan Josh Chicken
Cooked with spices & herbs, fried onions with tomatoes on top
£6.55
Rogan Josh Chicken Tikka
Cooked with spices & herbs, fried onions with tomatoes on top
£7.55
Kashmir Chicken
Cooked with cream & mango
£6.95
Kashmir Chicken Tikka
Cooked with cream & mango
£7.95
Naga Chicken
Cooked in a spicy sauce made with onions, spices, herbs & naga chilli
£7.75
Naga Chicken Tikka
Cooked in a spicy sauce made with onions, spices, herbs & naga chilli
£8.75
Sagwala Chicken
Cooked with fresh spinach
£6.95
Sagwala Chicken Tikka
Cooked with fresh spinach
£7.95
Pathia Chicken
Hot, sweet & sour
£6.95
Pathia Chicken Tikka
Hot, sweet & sour
£7.95
Ceylon Chicken
Cooked with coconut
Hot & sour
£6.95
Ceylon Chicken Tikka
Cooked with coconut
Hot & sour
£7.95
Malaya Chicken
Cooked with mango
Mild
£6.95
Malaya Chicken Tikka
Cooked with mango
Mild
£7.95
Bombay Chicken
Cooked with egg & potato
Medium hot
£6.95
Bombay Chicken Tikka
Cooked with egg & potato
Medium hot
£7.95
Bombay Lamb
Cooked with egg & potato
Medium hot
£6.95
Bombay Lamb Tikka
Cooked with egg & potato
Medium hot
£7.95
Malaya Lamb
Cooked with mango
Mild
£6.95
Malaya Lamb Tikka
Cooked with mango
Mild
£7.95
Curry Lamb Tikka
Medium hot
£7.25
Madras Lamb Tikka
Fairly hot
£7.35
Vindaloo Lamb
Very hot with pieces of potato
Very hot
£6.45
Vindaloo Lamb Tikka
Very hot with pieces of potato
Very hot
£7.45
Bhuna Lamb
Dry but moist
Medium hot
£6.45
Bhuna Lamb Tikka
Dry but moist
Medium hot
£7.45
Dupiaza Lamb
Dry but moist, fried with onions
£6.45
Dupiaza Lamb Tikka
Dry but moist, fried with onions
£7.45
Rogan Josh Lamb
Cooked with spices & herbs, fried onions with tomatoes on top
£6.55
Rogan Josh Lamb Tikka
Cooked with spices & herbs, fried onions with tomatoes on top
£7.55
Kashmir Lamb
Cooked with cream & mango
£6.95
Kashmir Lamb Tikka
Cooked with cream & mango
£7.95
Naga Lamb
Cooked in a spicy sauce made with onions, spices, herbs & naga chilli
£7.75
Naga Lamb Tikka
Cooked in a spicy sauce made with onions, spices, herbs & naga chilli
£8.75
Sagwalla Lamb
Cooked with fresh spices
£6.95
Sagwalla Lamb Tikka
Cooked with fresh spices
£7.95
Patia Lamb
Hot, sweet & sour
£6.95
Patia Lamb Tikka
Hot, sweet & sour
£7.95
Ceylon Lamb
Cooked with coconut
Hot & sour
£6.95
Ceylon Lamb Tikka
Cooked with coconut
Hot & sour
£7.95
Prawn Vindaloo
Very hot with pieces of potato
Very hot
£7.35
Prawn Bhuna
Dry but moist
Medium hot
£7.25
Prawn Dupiaza
Dry but moist, fried with onions
£7.25
Prawn Rogan Josh
Cooked with spleen & herbs, fried onions with tomatoes on top
£7.25
Prawn Sagwalla
Cooked with fresh spinach
£7.55
Prawn Patia
Hot, sweet & sour
£7.55
Mixed Raita
Yoghurt with cucumber, onions & herbs
£1.95
Butter Tikka Chicken
Cooked with fresh butter using spices, herbs & fresh cream
£8.95
Butter Tikka Lamb
Cooked with fresh butter using spices, herbs & fresh cream
£8.95
Pasanda Chicken
Cooked with mild spices, almonds & cream
Mild
£8.95
Pasanda Lamb
Cooked with mild spices, almonds & cream
Mild
£8.95
Queens Tandoori Special
Chicken tikka, lamb tikka & tandoori chicken with special spices & herbs
£9.95
Chef Special
Chicken tikka, lamb tikka & tandoori king prawn in medium chef's special spices
Medium
£9.50
Lemon Chana Chicken
Aromatic dish, using fresh chopped lemon, fragrant herbs & chickpeas
£8.95
Pistachio Korma Chicken
A mild creamy delicate dish, light green in appearance due to the generous helping of ground pistachio nuts
Mild
£8.95
Pistachio Korma Lamb
A mild creamy delicate dish, light green in appearance due to the generous helping of ground pistachio nuts
Mild
£8.95
Chettinad Chicken
A hot dish from the trader & Mercantilu community of the Chettiars using star anise, poppy seeds, fresh lime juice & ground coconut
Hot
£8.95
Chettinad Lamb
A hot dish from the trader & Mercantilu community of the Chettiars using star anise, poppy seeds, fresh lime juice & ground coconut
Hot
£8.95
Ayam Genting
A medium hot blend of Tamil & Malay cuisine. A chicken curry with ground roast peanuts & a dark brown flavouring made of dried shrimp paste & tamarind
Medium hot
£8.95
Murgh Dahiwala
This chicken dish is from the farming state of Punjab is served in a yoghurt & cream sauce seasoned with crushed coriander seeds, chopped green chillies & fenugreek leaves
£8.95
Tikka Pakwan Chicken
Cooked in clay oven with fresh garlic & ginger, very hot mixed with Bangladeshi traditional chilli
Very hot
£8.95
Tikka Pakwan Lamb
Cooked in clay oven with fresh garlic & ginger, very hot mixed with Bangladeshi traditional chilli
Very hot
£8.95
Tandoori King Prawn Pakwan
£10.95
King Prawn Tarkari
Cooked in the clay oven, medium hot dish with fresh garlic & ginger mixed with vegetable & chef's special spices
Medium hot
£10.95
Murgh Masala
Tandoori chicken cooked with minced lamb in a medium spiced sauce
Medium
£8.95
Dhaka Chicken
Marinated chicken or lamb cooked in clay oven, then cooked in medium spicy sauce with fresh tomatoes capsicum, coriander, crushed garlic, root ginger & selected North frontier herbs
Medium
£8.95
Dhaka Lamb
Marinated chicken or lamb cooked in clay oven, then cooked in medium spicy sauce with fresh tomatoes capsicum, coriander, crushed garlic, root ginger & selected North frontier herbs
Medium
£8.95
Tikka Sylheti Chicken
Cooked in clay oven, medium hot dish dry but moist, fresh garlic & coriander with pure Sylheti citrus with an outstanding aroma
Medium hot
£8.95
Tikka Sylheti Lamb
Cooked in clay oven, medium hot dish dry but moist, fresh garlic & coriander with pure Sylheti citrus with an outstanding aroma
Medium hot
£8.95
Bergholt Special
Pieces of chicken tikka, lamb tikka, seekh kebab cooked in the clay oven with fresh ground coriander & ginger
£9.95
Garlic Tikka Chicken
Cooked in the clay oven with touch of fresh garlic & coriander
Medium hot dish
£8.95
Garlic Tikka Lamb
Cooked in the clay oven with touch of fresh garlic & coriander
Medium hot dish
£8.95
Tikka Chilli Masala Chicken
Cooked with green chilli & touch of coconut & almond
Fairly hot dish
£8.95
Tikka Chilli Masala Lamb
Cooked with green chilli & touch of coconut & almond
Fairly hot dish
£8.95
Achari Chicken Tikka
Lamb or chicken tikka pieces cooked with onions, green peppers, special pickle, ginger, garlic & tomatoes
Medium dry & fairly hot
£8.95
Achari Lamb Tikka
Lamb or chicken tikka pieces cooked with onions, green peppers, special pickle, ginger, garlic & tomatoes
Medium dry & fairly hot
£8.95
Indian Green Masala Chicken
Slightly spicy cooked with green sauce made out of fresh yogurt blend of coriander capsicum, green chilli, mint, ginger & garlic
£8.95
Indian Green Masala Lamb
Slightly spicy cooked with green sauce made out of fresh yogurt blend of coriander capsicum, green chilli, mint, ginger & garlic
£8.95
Makhani Chicken
Cooked with masala sauce & delicious coconut & almond sauce on the top
£8.95
Makhani Lamb
Cooked with masala sauce & delicious coconut & almond sauce on the top
£8.95
Rendang Chicken
Dark spice, sweet & sour dish flavoured with blend of coconut milk, tamarind & spices
£8.95
Rendang Lamb
Dark spice, sweet & sour dish flavoured with blend of coconut milk, tamarind & spices
£8.95
Tikka Masala Balti Chicken
£9.95
Tikka Garlic Balti Chicken
£9.95
Tikka Chilli Balti Chicken
£9.95
King Prawn Curry
Medium hot
£8.95
King Prawn Madras
Fairly hot
£9.10
King Prawn Vindaloo
Very hot with potato
Very hot
£9.10
King Prawn Bhuna
Dry but moist
Medium hot
£9.10
King Prawn Dupiaza
Dry but moist, fried with onions
£9.10
King Prawn Rogan Josh
Cooked with spices & herbs, fried onions with tomatoes on top
£9.10
King Prawn Sagwalla
Cooked with fresh spinach
£9.10
King Prawn Patia
Hot, sweet & sour
£9.10
Masala Tandoori King Prawn
£10.95
Contact Us
Find Us
5 Queens Road, Colchester, CO63HE
We deliver to
CO1, CO2, CO3, CO4, CO5, CO6, CO7, CO8